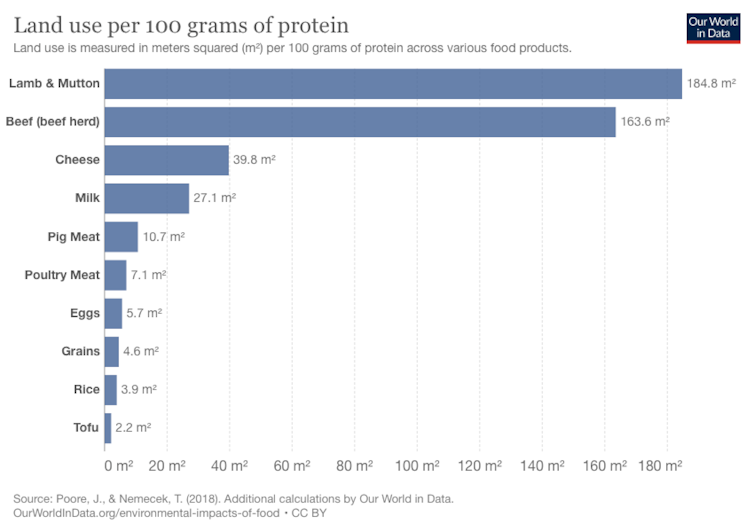 The Conversation is "a news organization dedicated to facts and evidence" and with the tag line "Academic rigor, journalistic flair". Our kind of reading. The graph to the left illustrates this article's point; the photo below to the right is too composed for rigor:
New food technologies could release 80% of the world's farmland back to nature

Here's the basic problem for conservation at a global level: food production, biodiversity and carbon storage in ecosystems are competing for the same land. As humans demand more food, so more forests and other natural ecosystems are cleared, and farms intensify and become less hospitable to many wild animals and plants. Therefore global conservation, currently focused on the COP15 summit in Montreal, will fail unless it addresses the underlying issue of food production.

Fortunately, a whole raft of new technologies is being developed that make a system-wide revolution in food production feasible. According to recent research by one of us (Chris), this transformation could meet increased global food demands by a growing human population on less than 20% of the world's existing farmland. Or in other words, these technologies could release at least 80% of existing farmland from agriculture in about a century.

Around four-fifths of the land used for human food production is allocated to meat and dairy, including both range lands and crops specifically grown to feed livestock. Add up the whole of India, South Africa, France and Spain and you have the amount of land devoted to crops that are then fed to livestock.

Despite growing numbers of vegetarians and vegans in some countries, global meat consumption has increased by more than 50% in the past 20 years and is set to double this century. As things stand, producing all that extra meat will mean either converting even more land into farms, or cramming even more cows, chickens and pigs into existing land. Neither option is good for biodiversity…
Read the whole article here.