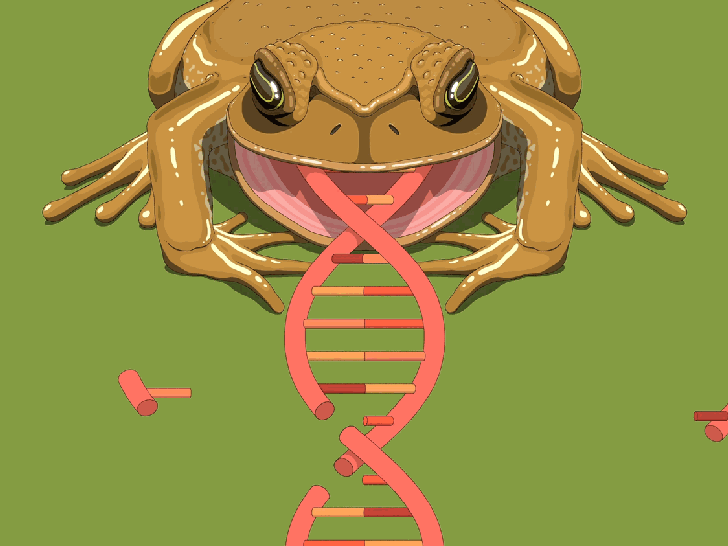 If you can suspend judgement for a moment the awe is overwhelming:
New gene-editing technology could be used to save species from extinction—or to eliminate them.

By Elizabeth Kolbert

Odin, in Norse mythology, is an extremely powerful god who's also a trickster. He has only one eye, having sacrificed the other for wisdom. Among his many talents, he can wake the dead, calm storms, cure the sick, and blind his enemies. Not infrequently, he transforms himself into an animal; as a snake, he acquires the gift of poetry, which he transfers to people, inadvertently.

The Odin, in Oakland, California, is a company that sells genetic-engineering kits. The company's founder, Josiah Zayner, sports a side-swept undercut, multiple piercings, and a tattoo that urges: "Create Something Beautiful." He holds a Ph.D. in biophysics and is a well-known provocateur. Among his many stunts, he has coaxed his skin to produce a fluorescent protein, ingested a friend's poop in a D.I.Y. fecal-matter transplant, and attempted to deactivate one of his genes so that he could grow bigger muscles. (This last effort, he acknowledges, failed.) Zayner calls himself a genetic designer and has said that his goal is to give people access to the resources they need to modify life in their spare time.

The Odin's offerings range from a "Biohack the Planet" shot glass, which costs three bucks, to a "genetic engineering home lab kit," which runs almost two thousand dollars and includes a centrifuge, a polymerase-chain-reaction machine, and an electrophoresis gel box. I opted for something in between: the "bacterial crispr and fluorescent yeast combo kit," which set me back two hundred and nine dollars. It came in a cardboard box decorated with the company's logo, a twisting tree circled by a double helix. The tree, I believe, is supposed to represent Yggdrasil, whose trunk, in Norse mythology, rises through the center of the cosmos.

Inside the box, I found an assortment of lab tools—pipette tips, petri dishes, disposable gloves—as well as several vials containing E. coli and all I'd need to rearrange its genome. The E. coli went into the fridge, next to the butter. The other vials went into a bin in the freezer, with the ice cream.

Genetic engineering is, by now, middle-aged. The first genetically engineered bacterium was produced in 1973. This was soon followed by a genetically engineered mouse, in 1974, and a genetically engineered tobacco plant, in 1983. The first genetically engineered food approved for human consumption, the Flavr Savr tomato, was introduced in 1994; it proved such a disappointment that it went out of production a few years later. Genetically engineered varieties of corn and soy were developed around the same time; these, by contrast, have become more or less ubiquitous.

In the past decade or so, genetic engineering has undergone its own transformation, thanks to crispr—shorthand for a suite of techniques, mostly borrowed from bacteria, that make it vastly easier for biohackers and researchers to manipulate DNA. (The acronym stands for "clustered regularly interspaced short palindromic repeats.") crispr allows its users to snip a stretch of DNA and then either disable the affected sequence or replace it with a new one…
Read the whole story here.